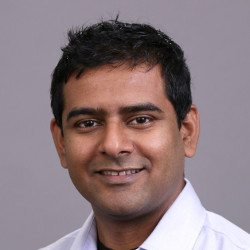 Lakshminarayanan Subramanian is a Professor in the Courant Institute of Mathematical Sciences at NYU. His research interests are in the areas of networked systems, machine learning and AI/ML for health, sustainability and socio-economic development. He leads the Open Networks and Big Data Lab and is a member of the NYU Systems group. He is associated with the Center for Technology and Economic Development, Center for Data Science and NYU WIRELESS.
He is a Co-founder and Chief Scientist at Entrupy Inc, a startup that uses machine vision algorithms and microscopy to authenticate physical goods and enable trustworthy commerce. He is the Co-Founder of Gaius Networks , a startup aiming to build a new hyperlocal mobile web for the next billion users in emerging markets.
Research group: Open Networks and Big Data Lab
People: Talal Ahmad (Ph.D. student), Ananth Balashankar (Ph.D. student), Shiva R. Iyer (Ph.D. student), Yan Shvartzshnaider (Post Doc), Mukund Sudarshan (Ph.D. student).
---