Student Research Project at the Museum of Modern Art, New York (Spring, 2011)

---
Project Title Source Code Documentation for Computational Art at the Museum of Modern Art
Participants: Susana Delgadillo, Kelsey Lee, Elizabeth Pelka, Erin Schoenfelder and Albert Yau
Supervisor: Professor Deena Engel, Courant Institute of Mathematics, New York University
MoMA Liaison: Glenn Wharton, Media Conservator, Museum of Modern Art.

Students worked on a research project preparing documentation on a work of computational art in order to facilitate conservation decisions about this work in particular and to provide a model for this process for such works in general. The documentation included an overview of the technologies used, a flowchart of the work, identification and narrative descriptions of the functions and procedures and an overview to contextualize the work within the field of current computational art.
---
Museum The Museum of Modern Art, New York City
Artist Rafael Lozano-Hemmer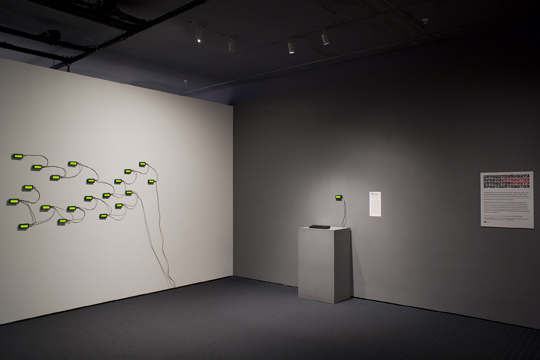 Rafael Lozano-Hemmer. 33 Questions Per Minute. 2000.
Installation view of the exhibition, "Automatic Update." June 27, 2007 through September 3, 2007.
The Museum of Modern Art, New York.
Photographer: John Wronn.
Copyright: The Museum of Modern Art, New York.