While We Were Sleeping
NYU and the Destruction of New York
A Collection of Pieces in Protest
Printed at McNally-Jackson bookstore, 2012, ISBN 978-1-938-02214-2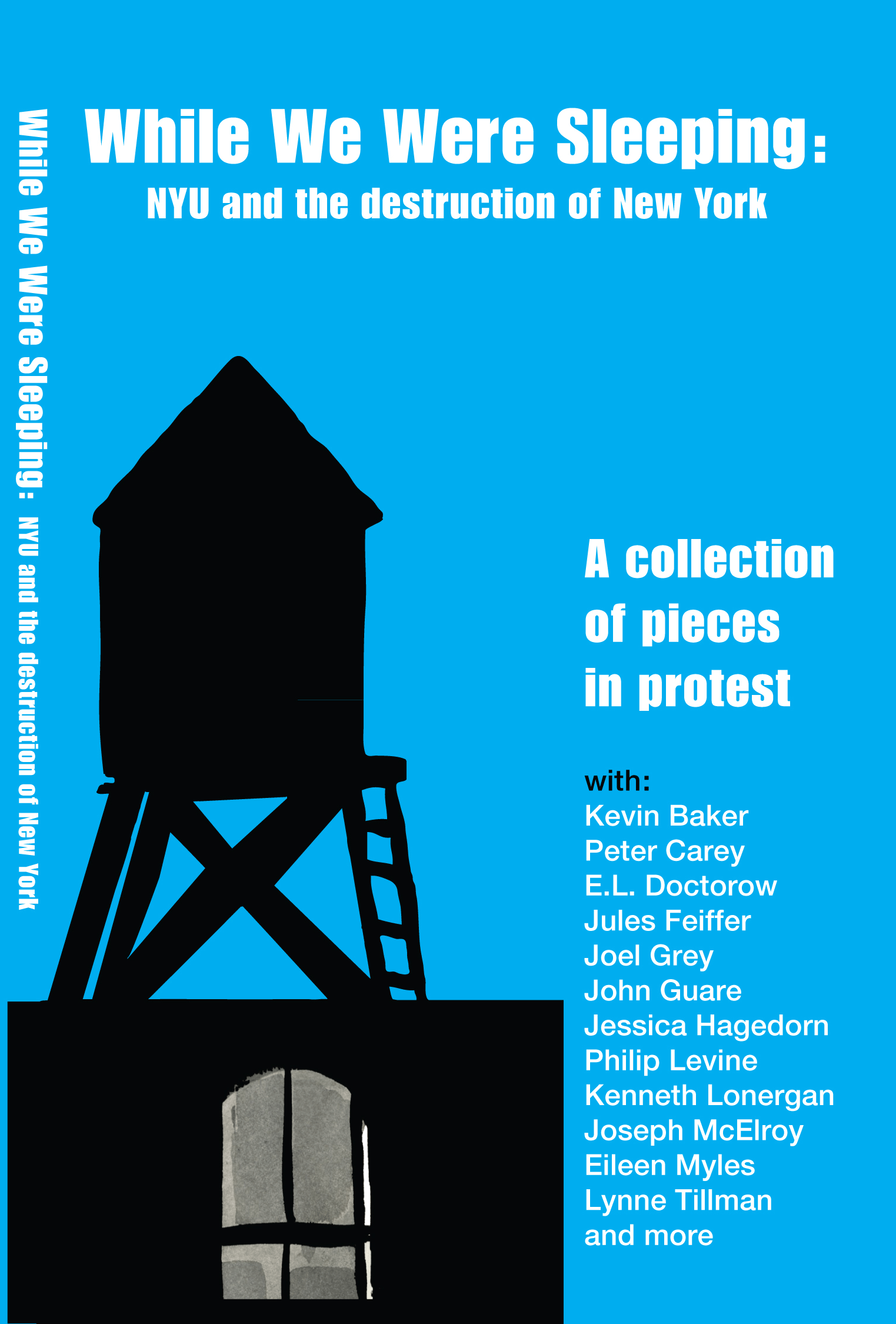 "While We Were Sleeping" is an urgent call to save Greenwich Village from New York University's uncontrolled expansion. Writers and artists make the case against NYU's plans to devour previous acres of green space, including the spectacular Sasaki Garden, the Key Park children's playground, and a gorgeous grove of oak trees. All this will go ahead if we don't stop it. The price of our inactivity is twenty years of continuous construction. We will wake up to discover 2.2 million square feet of office space where our Village used to be. Our alarm clock is ringing.
Table of contents
Preface
Mark Crispin Miller
Crimes Against Urbanity
&nbsp
1. The University
Jules Feiffer
Annals of SuperVillains: The Gown That Ate the Town
Ernest Davis, Patrick Deer
Expand Minds, Not NYU's Campus
&nbsp &nbsp Mark Crispin Miller
Lynne Tillman
Great vs. BIG
Andrew Ross
Debt and Growth, FIRE and ICE
Barbara Browning
Dancing Through the Village
Patrick W. Gallagher
The Magical World of Real Estate, Where Anything Can Happen (But Doesn't)
E.L. Doctorow
&nbsp
2. The Village
Roberta Brandes Gratz
NYU Protest
Kenneth Lonergan
Peter Carey
New York Theater Workshop, June 18, 2012
Hubert Steed
Before and After Photos
Kevin Baker
The Village Without Apologies
Eileen Myles
Buildings and Cigarettes
David Amram
Eric Drooker
Bird's Eye View
Nat Hentoff
John Guare
Joseph McElroy
I ASK
Joel Grey
Philip Levine
It Can't Happen Here
Jessica Hagedorn
Greenwich Village, Mon Amour
Eric Drooker
Terminal Rage
Sarah Schulman
Good Morning 7-Eleven
Arthus Nersesian
Part by Part
James S. Russell
How NYU Can Grow
Michael Sorkin
NYU's Tipping Point
&nbsp
3. Beyond the Village
Daniel Goldstein
The Universal Flight
Brian McFadden
Gentrified Funny Pages
Mindy Thompson Fullilove, MD &nbsp &nbsp
Industries and Ecosystems
Ashley Gilbertson
Photos from the Book Party at McNally-Jackson Joann Jovinelly, photographer.