Stay Informed
For information on what resources are available to you, and how you can learn more, click here.
Keep up-to-date on the latest happenings with the NYU Community Passport, a monthly electronic newsletter.
Contact Us
Contact the Office of Government and Community Affairs:
212-998-2400
Email Us
Links
NYU Construction
Find useful information about the University's construction projects, announcements, renderings, and answers to frequently asked questions.
NYU 2031 Resources
Find presentations of NYU 2031 plans, letters of support from community members, and documents submitted through the public approval process.
NYU 2031: NYU in NYC is a long-term strategic framework for growth, aiming to be a thoughtful, comprehensive, city-wide vision for thinking about how to keep the University moving forward academically while respecting the communities and the city in which we make our home. Currently, the 2031 Core proposal is being reviewed by the Manhattan Borough President.
NYU 2031 Support in the News
Daily News: "NYU's Expansion Plan Is Good For The School And For Greenwich Village."
"New York University wants to consolidate its position as a great national institution with a major upgrade of the facilities at its Greenwich Village campus. Its leadership should be commended for putting together a smart plan that meets the needs of the school's current and future students and faculty—while making the campus friendlier to the surrounding neighborhood.
"The university desperately needs space. Not to feed rampant expansion, but to keep up. It has less than half as many square feet per student as many urban universities. That makes classes and faculty offices cramped. It means students now bleed out into other neighborhoods.
"This is a nonprofit academic institution trying to build on its own land. There are no city subsidies. There is no eminent domain being exercised. Just a healthy, well-thought out plan. Stringer and the Council must give the green light."
Read the full article at the Daily News
News and Information
April 05th, 2012
New York Observer: "NYU and the Village"
"New York University's vibrant presence in the Village, its diverse and creative student body and faculty, and its commitment to the civic culture of New York make it one of the city's genuine treasures. The university also has managed the...
April 05th, 2012
New York Times: "Let NYU Expand in Its Backyard"
"New York University's 44,000 students and 16,000-plus employees need more space. Many NYU educators are opposed to it, but we believe implacable opposition is misguided. NYU, along with other great educational institutions in New York, like Columbia, needs to expand....
March 27th, 2012
Washington Square News: "NYU 2031 Will Not Affect Village's Historical Charm"
To a Greenwich Village native, the notion of NYU erecting yet another architectural mishap in the middle of its historical blocks sounds nothing short of dystopian. But NYU and the Village are modernizing together. Its role as a historical quarter...
Did You Know?
NYU is one of the largest employers in New York City, with over 16,000 employees. The NYU Core plan will create an estimated 18,200 new construction jobs, as well as 2,600 long-term employment opportunities, and will generate an estimated $6 billion in construction spending.
Learn more»
Interactive Plan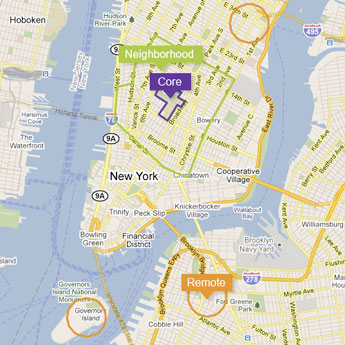 Planning Principles
The Community Task Force on NYU Development created a set of principles that NYU has agreed will guide its future development.

Establish criteria for development within the existing NYU footprint in the University's core location, and the surrounding neighborhoods that would prioritize.

— Identifying opportunities to decentralize facilities and actively pursuing these opportunities;

— Contextual development that is sensitive to building heights, densities, and materials;

— Reuse before new development.

— Considering mixed-use facilities that complement Manhattan's mixed neighborhoods, particularly in regard to ground-floor uses.

Identify solutions to maximize utilization of existing assets by consulting with the community on:

— The types of facilities that can be decentralized from the Village core and surrounding neighborhoods and cultivating locations outside these areas;

— Preferences for appropriate places for vertical additions;

— Encouraging programmatic and scheduling efficiencies; and

— Opening new and reenvisioning existing recreational spaces to better serve both the student population as well as the community at large.

Make thoughtful urban and architectural design a priority by:

— Respecting the limitations of the urban environment, including the impact on New York City's infrastructure;

— Improving the quality of open spaces; and

— Actively soliciting, utilizing, and implementing input from the community in the design process.

Support community sustainability by:

— Preserving existing diverse social and economic character through the support of community efforts to sustain affordable housing and local retail;

— Exploring the utilization of ground floors of buildings for community-oriented uses such as local retail, gallery spaces for local artists, nonprofit users and other providers of community services; and

— Generating a tenant relocation policy for legal, residential tenants, in the event that construction or conversion necessitates the relocation of tenants.

Respect for the community's existing qualities of life including, but not limited to:

— Taking measures to mitigate effects of construction such as noise, dust, work hours; sound mitigation for mechanical equipment; and construction staging;

— Reaching out early and often for community consultation related to major construction;

— Creating a Web site for ongoing constructions; and

— Committing to a community-oriented public process for reviewing NYU's proposed projects and developments.