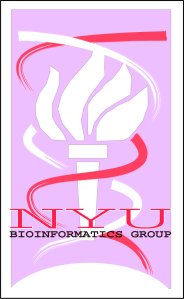 NYU/Courant Bioinformatics Group
---
PEOPLE
Justin Jee
Bud Mishra
Ilya Korsunsky

---
---
Recent Publications
Cancer Hybrid Automata: Model, Beliefs & Therapy, (with L. Olde Loohuis and A. Witzel), Special Issue on "Hybrid Systems and Biology," Information and Computation, January 27 2014.
(Epub http://dx.doi.org/10.1016/j.ic.2014.01.013)

Improving Detection of Driver Genes: Power-law Null Model of Copy Number Variation in Cancer (with L. Olde Loohuis and A. Witzel), Submitted IEEE Transactions on Computational Biology and Bioinformatics, 2014. (Also appears as Power-law Null Model for Bystander Mutations in Cancer BIORXIV/2013/001651, January 2014.)

Systems Biology of Cancer: A Challenging Expedition for Clinical and Quantitative Biologists, [Invited Paper], (with I. Korsunsky et al.), Special Issue on Model Checking and Symbolic Methods in Biology, Frontiers in Bioinformatics and Computational Biology, NPG, January 2014.


What Can Information-Asymmetric Games Tell Us About the Context of Crick's 'Frozen Accident'? (with J. Jee et al.), Journal of the Royal Society Interface, August, 2013.