Sign of Determinants Example
---
Sign of Determinants
The sign determination of determinants of 3 x 3 or 4 x 4 matrices is the one of the most fundamental computations in the computational geometry. Consider the 4 x 4 matrix:



The determinant of this matrix is 0.

Now, perturb the bottom right element: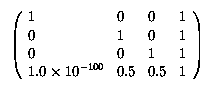 Then, the determinant becomes negative.
The results are


---
[ Real/Expr Homepage ]
---
Should you have any comment, send an e-mail to ouchi@simulation.nyu.edu.